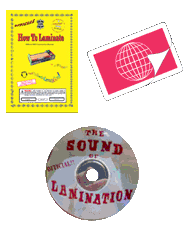 4. Lamination Ritual Deluxe-$99.99
Send your ephemera to the Ministry of Lamination to be transformed into an object of official permanence. You will receive:
Your ephmera (up to 9 x 12 inches) laminated in an Official Lamination Ritual, stamped and signed by Egnekn, the Minister of Lamination for eternity, officially!
a unique "Sound of Lamination" edition-of-one audio CD containing the sounds of your Lamination as performed in an Official Lamination Ritual by Egnekn, the Minister of lamination
The Official "How to Laminate" booklet handmade and signed by Egnekn. Learn the secrets of lamination!

---
(Your ephemera must be less than 1/16 inch (2mm) thick. In other words: flat. The Ministry of Lamination is willing to push the limits with pliable materials such as marshmallows or potato chips.)
NO CANDY!!!!! NO DRIVER's LICENSES!
(The Ministry of Lamination will not laminate anything practical)
Official stamp from the Ministry of Lamination AUTOMATICALLY INCLUDED
Rounded corners NO EXTRA CHARGE
All prices include shipping, handling and tax.
If this is a gift you can send a message with your gift by e-mailing the Minister of Lamination at EGNEKN
Ministry of Lamination
The Kingdoms of Elgaland-Vargaland
300 West 23rd Street #8B, New York, New York 10011 U.S.A.
www.MinistryofLamination.com
---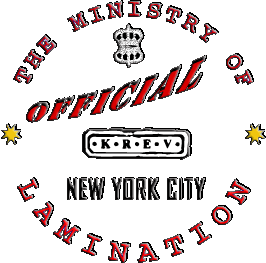 Lamination Appointments
For Your Official
Lamination Needs & Desires
Laminations Rituals are performed by request, either in person or through the post.

If there is something you would like laminated "officially", Contact: EGNEKN
Appointments can be pre-paid through Pay Pal and well worth the price of $25.00.