Current Events
Lamination Ritual at AVA / The Dependent Art Fair
Saturday, March 10th Room open 12-8pm Free
Comfort Inn, Room #602 (Queen Size Bed)
136 Ludlow St., NYC
Exotic Room Service Lamination Ritual @ 6pm sharp!
Compliments of Egnekn, Minister of Lamination and
Andrea, The Enchantress of Bioluminosity
plus:
Larry 7, The Minister of Audiology
Drops in to "tune-up" the laminator!

Download your registration form today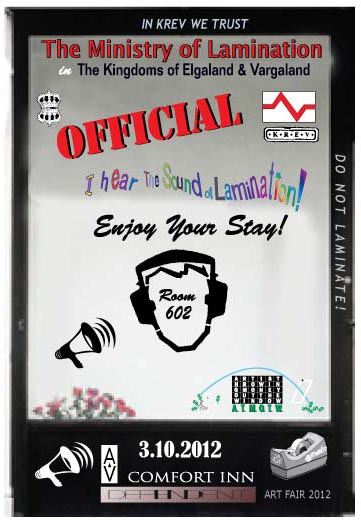 The Big Idea
Little Berlin presents an exhibition of work that refers to
the condition of not meeting the desired objective of a big idea.

The Ministry of Lamination will be performing a Lamination Ritual at the opening:
Saturday October 1st 6-10 pm
Little Berlin - 2430 Coral Street in Philadelphia, The City of Brotherly Love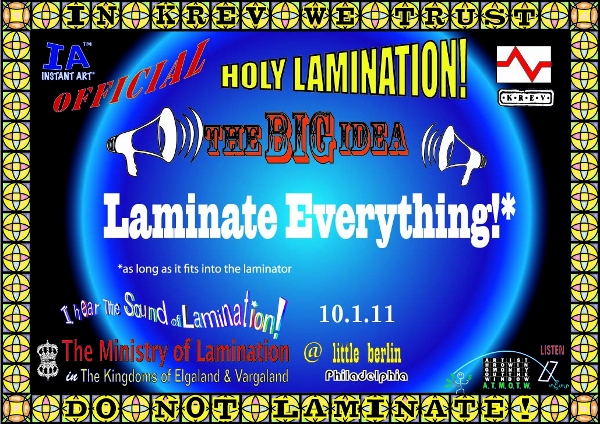 Our Big Idea is to Laminate Everything!*
We will be Laminating God! (and the absence of God for unbelievers)
And this is just a start!
Please join us if you are in near Philadelphia
*as long as it fits into the laminator
The Big Idea - Artists in Exhibition


Laminate Your Hardware! Egnekn will be at The Crest Hardware Art Show in Brooklyn on June 18, 2011.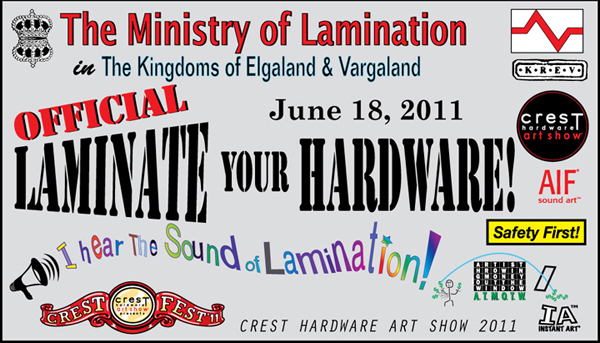 Ministry of Lamination Installation on view all day - Lamination Ritual with performance
by Egnekn, The Minister of Lamination and Andrea, The Enchantress of Bioluminosity
from 4 - 7pm. Plenty of great hardware items to laminate! Everyone's invited!
www.cresthardwareartshow.com
December 11 & 12, 2009
the Ministry of Lamination will be at the 2009 Center For Book Arts Holiday Fair
Friday December 11 preview party 6pm - 9pm Admission $10
Saturday December 12 12pm - 7pm FREE ADMISSION
Laminated Ties, Tie Clips with Clippings, Records For PeoplwWho Don't Have Record Players or Bring You're Own Ephemera
November 6th, 2009 - January 22nd, 2010
The Ministry of Lamination has a case of laminated artifacts in the exhibit at Dana Gallery to accompany the XV Book Arts Symposium – I and Thou: Community and the Book.
Dana Gallery
John Cotton Dana Library, 4th Floor
185 University Ave, Newark, NJ

www.newark.rutgers.edu
---
November 7, 2009
Egnekn, the Minister of Lamination & Andrea, the Enchantress of Bioluminosity performed a Lamination Ritual between at the VendorBar exhibit at E/AB '09
VendorBar at E|AB '09:X Initiative/Formerly Dia.
548 West 22nd Street, Between 10th & 11th Avenue.
E|AB '09 Fair information: www.eabfair.com

November 9, 2009
The Ministry of Lamination performed The Sound of Lamination at Vox Populi Gallery in Philadelphia
Vox Populi Gallery, 319 N. 11th St. 3rd Floor, Philadelphia, PA, .
Sons of God (Sweden) - noise and performance

Egnekn Montgomery (New York) - Lamination Rituals

Joachim Nordwall (Sweden, member of Skull Defekts) - electronics
phillysoundforum.org/shows/sognov.html

---
The Lamination Ritual at The King's Arm was a smashing success!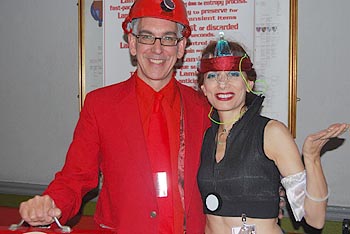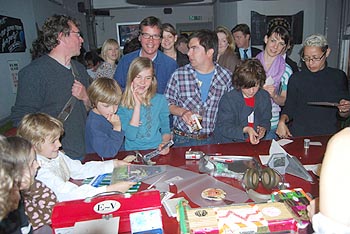 ---
also
Coming Soon: Our Daily Lamination