Historical Perspective
Lamination Ritual is the current development initiated by a Make Life Not Art campaign propagated in 1989 by my studio-turned store/gallery/network/hub, Generator. Originally located in the East Village of New York City, Generator was an open call for intermedia experimentation, while continuing a personal preoccupation I had with sound/noise/music and listening experiences.

The evolution of Generator - from studio to record store to concert hall to exhibition space to archive to traveling show - often followed a logic akin to "stream of consciousness". By refusing to take the steps necessary to become commercially viable or to enter the arena of public funding, Generator was to remain completely flexible and as spontaneous and broke. Transformations, evolutions, openings and closings became an integral part of Generator as well as the offshoots down unknown and sometimes seemingly unrelated paths.

These "seemingly unrelated paths" are as unmistakenly mysterious as is the existence of "haphazard". One of these paths was the use of the laminator in my work/life.


I supported Generator by working in a photo lab where laminating services were also provided. Each day I took discarded photographs out of the trash, cut them up and laminated them. Originally it was a kind of therapy-against-boredom, but it evolved into an obsession and source of inspiration. I decided Generator should have a self-service lamination station for the public to experiment and play with. People often associate lamination with the common place, practical objects such as: identification cards, menus, driver's license, etc. etc. (most people carry a laminated card with them all the time). But when people have the chance to experiment with making their own laminations the results are inspiring. Somehow the do-it-yourself trends found in more technically advanced mediums bypassed laminating. So Generator became the cutting edge Lamination Headquarters in New York City. (among its other functions.)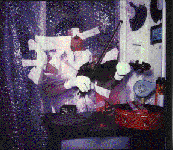 At Generator I became increasingly more involved with organized sound and consequently lost interest in "music" oriented traditions such as "music" concerts and "music" instruments. In my own work I began using ordinary objects to create sound experiences, in total darkness or in very stimulating environments such as La La Lalandia 2077 events. I used a film projector (Keystone Model 16 CC), an ice crusher (ICE-O-MATIC) and a laminator. Meanwhile I discovered that laminating at Generator had a big impact on people. Among them were Canadian artists Gordon Monahan and Laura Kikauka who invited me to laminate in a Bauhütte Klangzeit 2000 event at Gargoyle Mechanique in 1990 (New York City).

After many years as a noiscian struggling to make the transition into the art/life process, I was delighted to be invited to laminate. Laminated objects from that event are still carried by people who attended it. This is a testament to the lasting impact of Lamination Rituals. For me it marked the beginning of a series of life process events, often with the laminator close at hand. I have found no end to the variety of objects that can be laminated and no end to the enthusiasm, interest, confusion and fun people have shown when they are confronted with re-thinking lamination. Among items laminated during Lamination Rituals in the past are: monkey hairs, keys, rubber bands, rice noodles, razor blades, bubble gum, pubic hair, sponge fragments, paper clips, leeks, foil. torn fabric, wok cooked chili peppers, hash, spit, sprouts, leaves, bubble-wrap, french fries, pancakes, web cam stills, wax, dust, rubber and vinyl.